We designed, manufactured and installed a wall building sign for Leo&Lucky's Parrish. You can see this retail sign at 8943 US 301 N, Parrish, FL. Thank you Leo&Lucky's for trusting Florida Sign Company with your signs.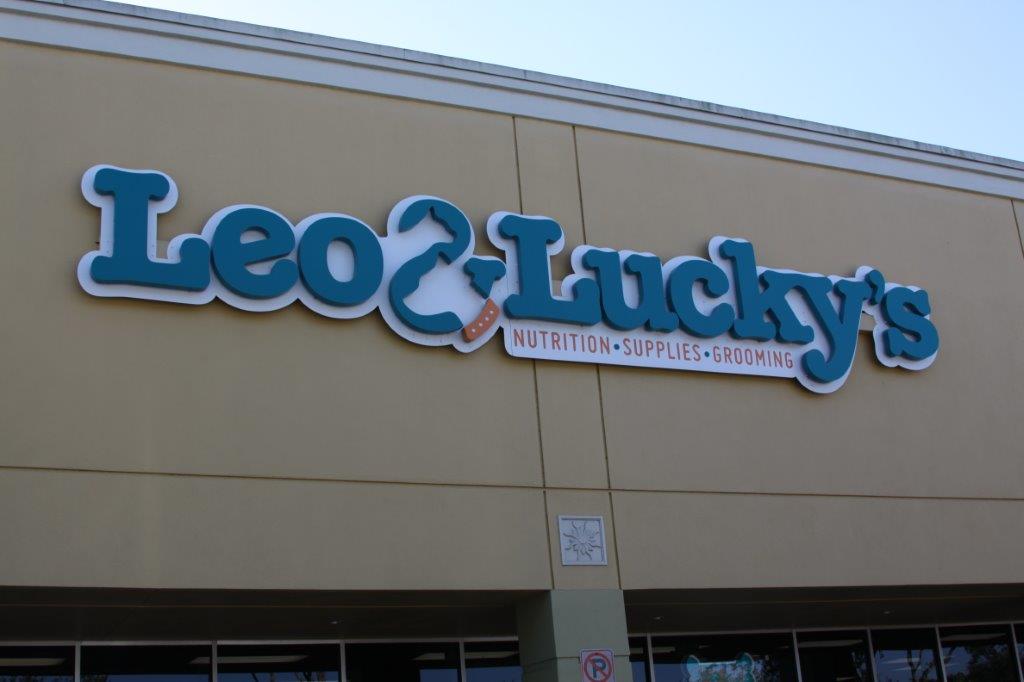 About Leo&Lucky's Parrish
Leo&Lucky's is a different type of pet store. It was founded as an alternative to the large chain and online pet stores which lack knowledgeable employees and responsibly-sourced products. Leo&Lucky's provides intimate stores with employees that are friendly, knowledgeable, and care about your pets.
Leo&Lucky's has a 3C's philosophy: Cost, Convenience, Communities. They believe in providing quality pet products at a fair cost. They offer convenience throughout the customer experience. They contribute to communities where they live and work.
In addition to offering pet products, they provide a comprehensive grooming service for cats and dogs.
Complete Cat Grooming Service
Nail Trim
Removal of Mats
Brush Out & Combing
Dematting – when your furry friend says it's okay
Flea Bath, Dry Shampoo Bath, or Medicated Bath
Ear Cleansing
Lion Trim
Patience & Love!
Complete Dog Bathing Service
Massaging Luxury Deep Clean Bath
Re-moisturizing of the Coat
Nail Trim (with grinding to smooth out edges – by request)
Ear Cleansing
Anal Glands – (by request*)
Brush Out & Detangle (excessive matting adds an additional cost)
No Heat Gentle Drying
Conditioning Spritz
Patience & Love!
Complete Dog Grooming Service
Additional Brush Out & Detangle
Ear Cleansing, including removal of debris and excess hair
Full Body Clipping as requested, includes trimming of feet, and sanitary trim
Even More Love!