YOUR TIME FRAME
The typical time frame of signs for production is three to four weeks from receiving the permit. Time frames vary due to magnitude of projects, permitting delays and other unseen obstacles. We pledge we will give the quickest possible turnaround on your sign.
We are also aware of time sensitive requirements such as grand openings that must be met. We will do whatever we have to do within our control to meet your deadlines.
Keep in mind that the permitting and fabrication process can take up to 6-8 weeks so be sure to leave plenty of time so you are not rushed in your decision making and you leave enough time to get your sign installed on time.
OUR QUALITY
Not all signs are created equal and though signs from different sign companies may look the same at the time of installation; the proof of quality and durability comes into play a few years down the road. We buy the finest materials and build our signs to last with a quality learned from 60 years in the sign business.
The phrase "you get what you pay for" is as true in the sign industry as in other industries. It is easy to cut corners on the manufacturing of a sign and still cosmetically have a good looking sign. We choose not to go this direction. We will build you a quality, long-lasting sign with pride and the satisfaction that no one could do better.
MATERIAL
We use only the best raw materials and lighting components to guarantee that our customers are getting the strongest most dependable sign available. Our sign structures and channel letters are built out of non corroding aluminum material proven to be the best at withstanding the harsh Florida climate. Most of our signs are now built with all LED illumination which gives longevity to the life of your sign as well as cheaper power bills to power your sign.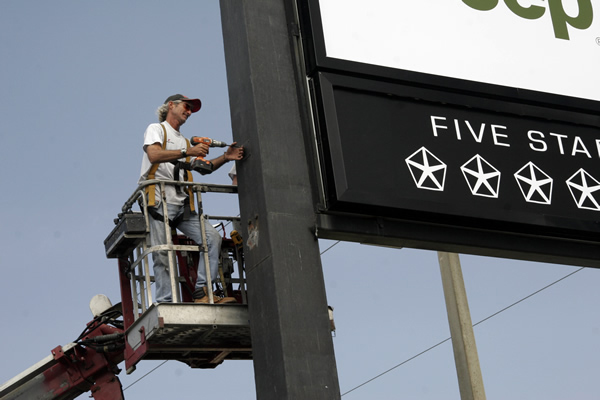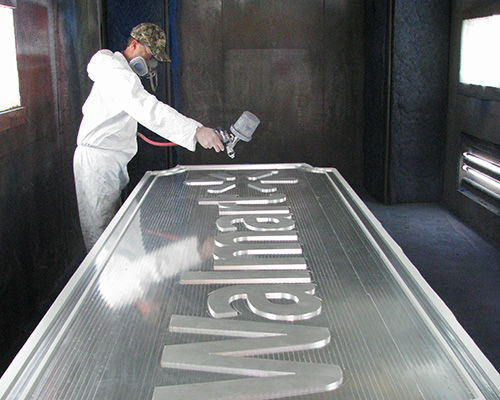 COLOR
With so many days of sunshine in Florida, color fading is a major concern. All materials will fade, the significant question is how fast. We use the best of pigmented plastic and professional two-part state-of-the-technology polyurethane paint on all signs we produce.
After a period of time, the difference between a home improvement store best brand paint and the $150 per gallon professional products we use will be easy to see
NEW TECHNOLOGY
The sign industry is continually evolving with LED technology to illuminate your channel letters, cabinet sign or a highly visible digital LED message board sign. We are constantly exploring ways to stay on the cutting edge of this technology and will only offer you a product of quality and will enhance the appearance of your sign.
This new LED technology has also revolutionized the sign industry in the area of changeable message boards. After much research we believe we have one of the brightest, long lasting, easily programable message boards on the market. Our message boards offer wireless communication and can be programmed from your office computer or any smart device.