We designed, manufactured and installed a pylon sign for Complete Care Bradenton. You can this medical sign at 3303 Manatee Ave W, Bradenton, FL. Thank you Complete Care for trusting Florida Sign Company with your signs.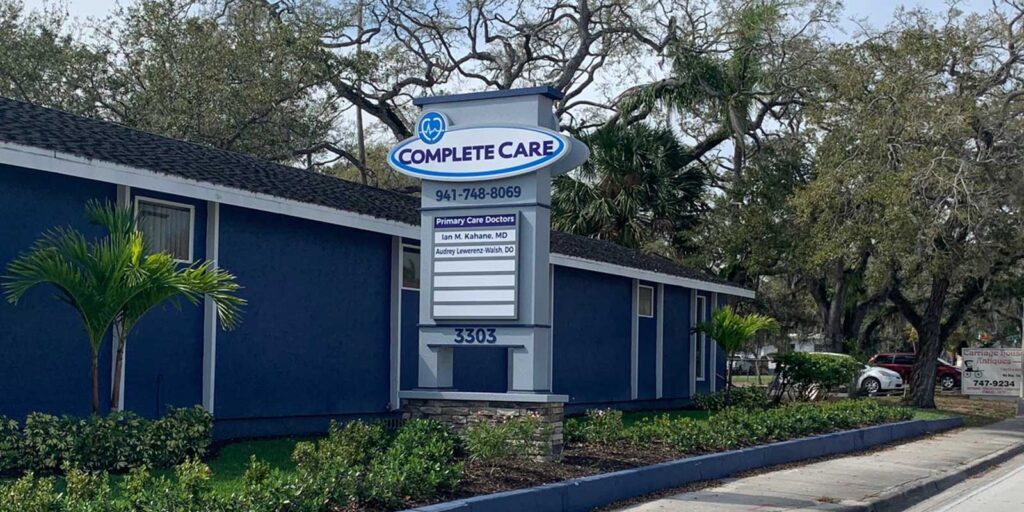 ABOUT Complete Care Bradenton
Complete Care is located at 3303 Manatee Ave W in Bradenton. Complete Care is a primary care practice accepting patients ages 12 and up. They not only treat immediate medical issues, they help prevent future medical problems.
Physicians
Dr. Ian M. Kahane
Dr. Kahane's life long dream was to become a physician. In 2015, he completed his medical school at Ross University School of Medicine. He was a member of the first ever residency class at Blake Medical Center where he served a year as Chief Internal Medicine resident.
Dr. Thomas Walsh
Dr. Walsh comes from a family of physicians. Both of his parents and several siblings are physicians in the Bradenton area. He is board certified in Internal Medicine and works as primary care physician.
Dr. Audrey Lewerenz-Walsh
Dr. Lewerenz-Walsh graduated in 1975 with honors from the University Of Osteopathic Medicine and Health Sciences. She has 47 years of experience in family practice and Osteopathic Manipulative Medicine.