Wicked Awesome Ice Cream Lakewood Ranch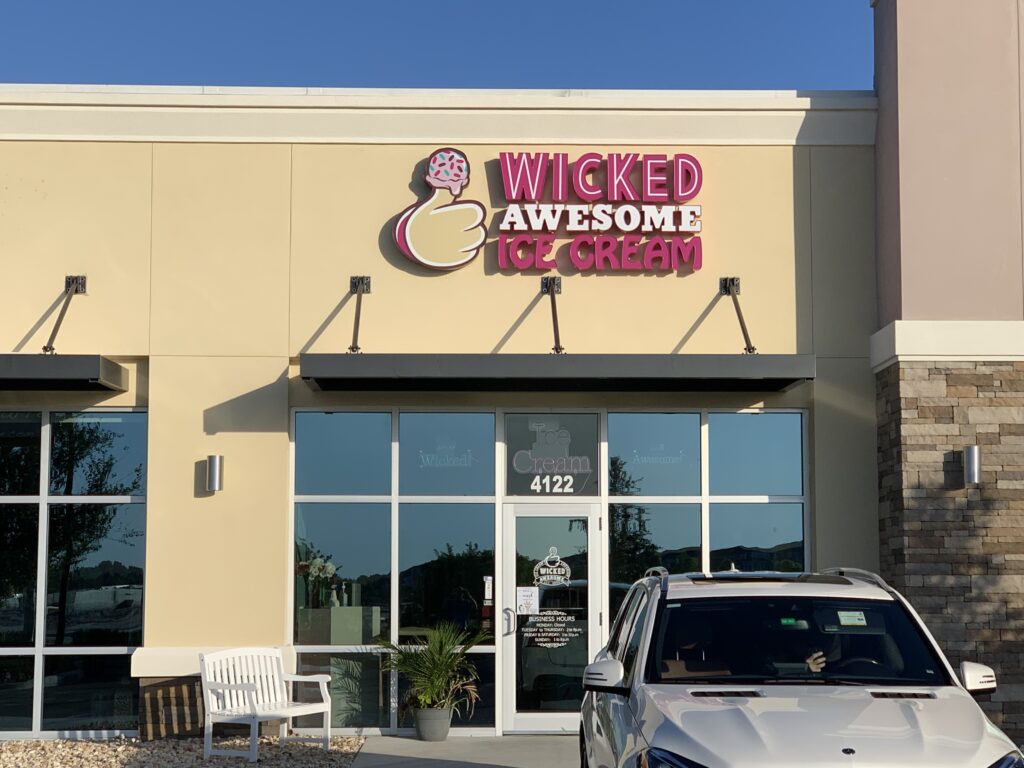 We recently manufactured and installed a new channel letter wall sign at Wicked Awesome Ice Cream Lakewood Ranch. You can see the sign at their location at 4122 Lakewood Ranch Blvd in Bradenton, Florida. Thank you Wick Awesome for trusting Florida Sign Company with your new sign.
ABOUT Wicked Awesome Ice Cream
Wicked Awesome Ice Cream is a New England-style ice cream emporium located in Lakewood Ranch. Don't be confused by the Wicked name. In New England, wicked is used to describe something as extreme or impressive.
Their hard serve serve ice cream has a dense, chewy goodness in every bite and comes in 36 flavors. Several of the flavors are New England-inspired and have become customer favorites. Try the Boston Tea Party, Vermont Maple Walnut, New Hampshire Wicked "Scorcha" (little heat), Maine Moose Tracks, Connecticut Mocha Chip or Rocky Rhode Island. In addition to hard serve ice cream, there three soft serve flavors, frappe's, and homemade sweet treats.
The ice cream is served in cups, cake cones, sugar cones, homemade waffle cones, and sundae's. Mix in or top your ice cream with many mix-ins and toppings such as Rainbow Sprinkles, Chocolate Jimmies, Cookies n Cream, Cookie Dough, M&M's, PB Cups, Snickers, Heath Bar, Walnuts, Crushed Nuts, Chocolate Chips, Gummy Bears, Gummy Worms, Hot Fudge, Caramel, Whipped Cream, or Cherries.
This place is a must try!