We have designed, manufactured and installed Starbucks signs in several locations. Below are a couple pictures of our Starbucks monument signs.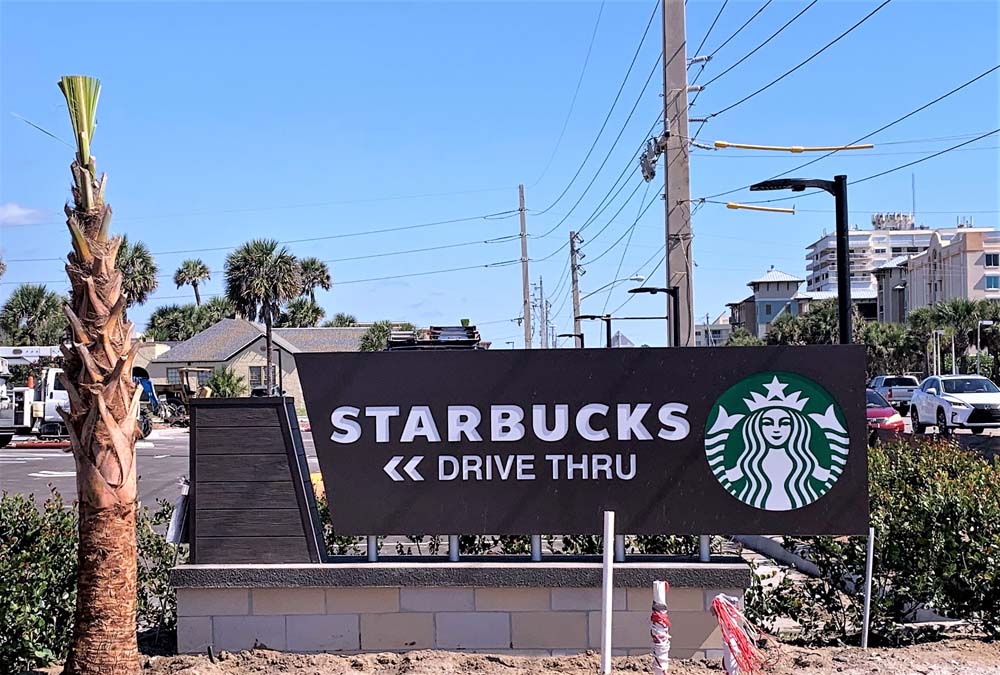 About Starbucks
Starbucks is a global coffeehouse chain that has become synonymous with quality coffee and a unique café experience. Founded in 1971 in Seattle, Washington, by three partners, Jerry Baldwin, Zev Siegl, and Gordon Bowker, Starbucks has grown to become one of the most recognized and influential brands in the world.
What sets Starbucks apart is its commitment to providing customers with not just a cup of coffee but an entire experience. The company prides itself on offering a comfortable and inviting atmosphere where people can gather, relax, and socialize. Starbucks stores are known for their cozy seating areas, free Wi-Fi, and a welcoming ambiance that encourages customers to stay and enjoy their beverages.
At the heart of Starbucks' success is its dedication to sourcing and roasting high-quality coffee beans. The company has established strong relationships with coffee farmers around the world, ensuring a reliable supply of ethically sourced beans. Starbucks places great emphasis on sustainability and supports various initiatives to promote responsible coffee farming practices.
The Starbucks menu features a wide range of beverages, including classic coffee options like lattes, cappuccinos, and espresso shots, as well as a variety of tea-based drinks, refreshers, and specialty beverages. They also offer an array of food items, from pastries and sandwiches to salads and snacks, catering to different tastes and dietary preferences.
Starbucks has a strong brand presence, with its iconic green logo becoming a symbol of quality coffee. The company has expanded globally, with thousands of stores across numerous countries, making it accessible to coffee lovers worldwide. Starbucks has also embraced technological advancements, introducing mobile ordering and payment options to enhance convenience for customers.
Starbucks has revolutionized the coffee industry by creating a distinct coffeehouse experience. With its focus on quality, sustainability, and community, Starbucks has established itself as a leader in the global coffee market, offering much more than just a place to grab a cup of coffee.