Florida Sign Company has manufactured Five Guys signs in several locations. Here are some pictures of Five Guys Signs.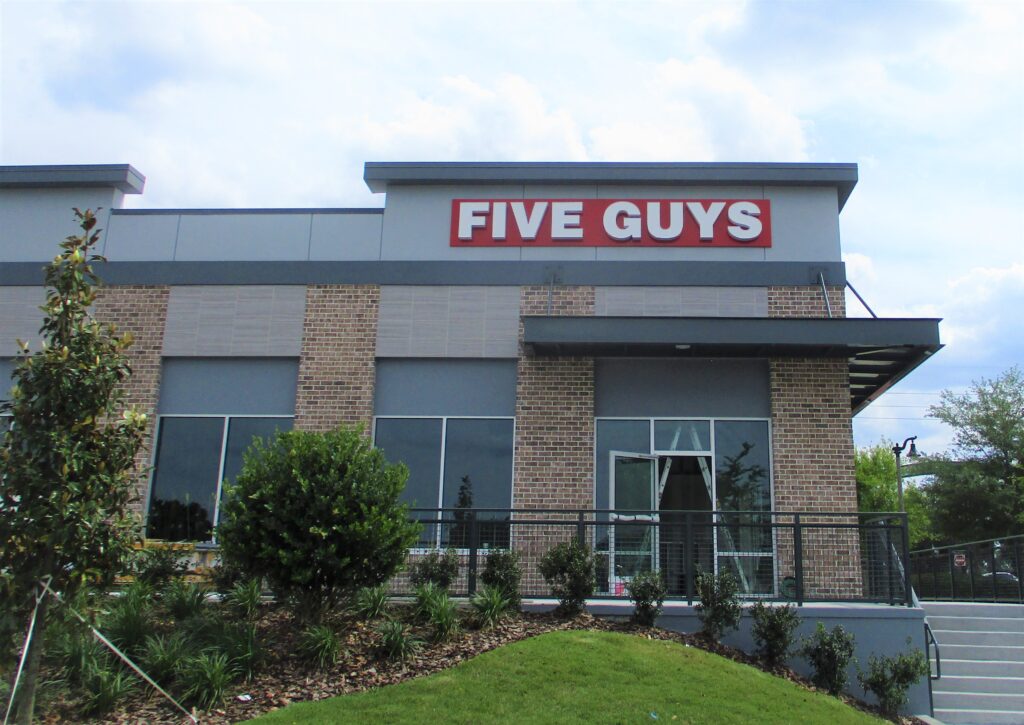 About Five Guys
Five Guys is a popular fast-casual restaurant chain that was founded in 1986 in Arlington, Virginia, by the Murrell family. The chain is known for its customizable burgers and hand-cut fries, made with fresh ingredients and cooked to order.
One of the key features of Five Guys is its simple menu. Customers can choose from burgers, hot dogs, sandwiches, and fries, and then customize their order with a variety of toppings, including lettuce, tomato, onions, pickles, cheese, bacon, and sauces. Additionally, customers can order milkshakes and soft drinks to accompany their meals.
Another defining aspect of Five Guys is its commitment to quality. The restaurant uses only fresh, never frozen beef and potatoes for their burgers and fries, and they don't use any freezers or microwaves in their kitchen. The restaurant also has a peanut oil allergy warning, as they cook their fries in peanut oil.
Five Guys has grown to become a popular chain with locations all around the world, including the United States, Canada, Europe, Asia, and the Middle East. Despite its rapid expansion, the company has maintained its focus on quality and simplicity, earning it a loyal following of burger and fry lovers.
Contact us if you are looking for a restaurant sign.