We designed, manufactured and installed a freestanding monument sign for the North Butler Sam's Club Gainesville. You can see this retail sign at 4001 SW 30th Pl, Gainesville, FL. Thank you North Butler Sam's Club for trusting Florida Sign Company with your new sign.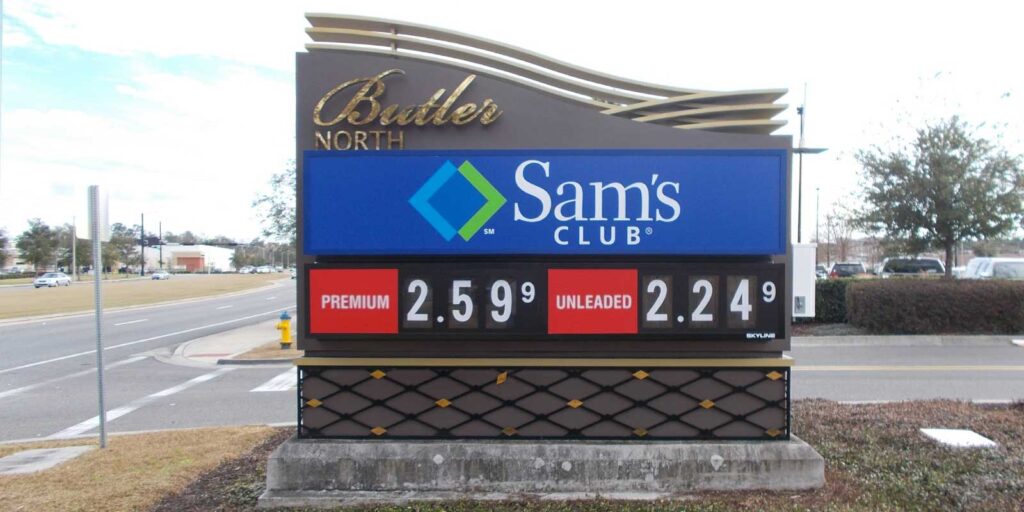 About Sam's Club Gainesville
Sam's Club is a chain of membership-only retail warehouse clubs named after Sam Walton, founder of Walmart. In 1983, he opened the first club in Midwest City, OK. His goal was to leverage his vast resources to provide products and services to help small businesses to succeed.
The North Butler Sam's Club (club no. 8155) is located at 4001 SW 30th Place in Gainesville. This club offers the following:
Pharmacy
Optical Center
Hearing Aid Center
Fuel Center
Meat, Poultry, & Seafood
Bread & Bakery
Cafe
Fresh Flowers
Liquor
Auto & Tires
Wireless
Plus Membership Early Hours
Mon-Fri 8:00 am – 10:00 am
Sat         8:00 am – 9:00 am
Club Hours
Mon-Fri 10:00 am – 8:00 pm
Sat         9:00 am – 8:00 pm
Sun        10:00 am – 6:00 pm
About Florida Sign Company
Florida Sign Company has been in business for over 70 years. With all of that experience we have become experts in sign design, sign fabrication, and sign installation. We service all of Florida and beyond. Contact us at 941-747-1000 for a consultation.