Classic Cars of Sarasota Sign
We designed, manufactured and installed a wall sign for Classic Cars of Sarasota. You can see this retail sign at The Landings located at 7910 25th Court East, Unit 107, Sarasota, FL. Thank you Classic Cars of Sarasota for trusting Florida Sign Company with your signs.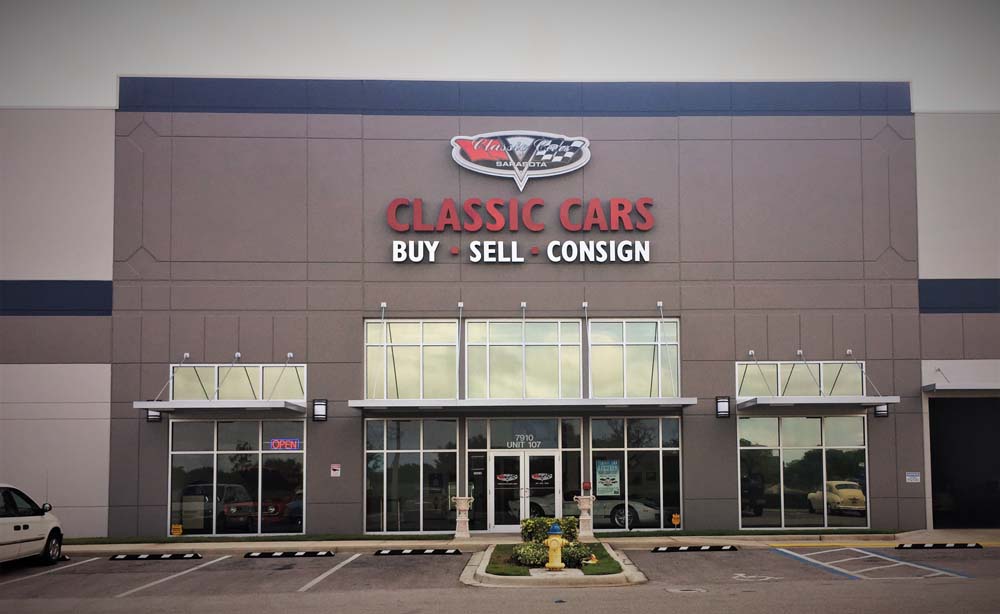 About Classic Cars of Sarasota
Classic Cars of Sarasota is a premier destination for automobile enthusiasts and collectors, located in the vibrant city of Sarasota, Florida. With its rich history, exceptional inventory, and dedicated staff, this dealership has established itself as a prominent player in the classic car market.
Nestled in a spacious and inviting showroom, Classic Cars of Sarasota boasts an impressive collection of vintage automobiles. Their inventory showcases a diverse range of iconic makes and models from various eras, including classic American muscle cars, elegant European sports cars, and timeless luxury vehicles. From the sleek lines of a 1965 Ford Mustang to the opulence of a 1957 Chevrolet Bel Air, the dealership offers an exceptional selection that caters to a wide array of tastes and preferences.
What sets Classic Cars of Sarasota apart is not only the quality of their inventory but also their commitment to customer satisfaction. The knowledgeable and passionate team of experts is always on hand to assist visitors, offering guidance and sharing their extensive expertise. They provide valuable insights into each vehicle's history, specifications, and condition, ensuring that buyers can make informed decisions.
In addition to their sales services, Classic Cars of Sarasota offers comprehensive consignment options for classic car owners looking to sell their prized possessions. The dealership's reputable consignment program provides a hassle-free experience, handling all aspects of the sales process on behalf of the owner. From professional marketing to thorough inspections and negotiations, they strive to secure the best possible outcome for both buyers and sellers.
Classic Cars of Sarasota also hosts regular car shows and events, bringing together car enthusiasts from near and far. These gatherings provide an opportunity for like-minded individuals to celebrate their shared passion for classic automobiles, fostering a sense of community within the vibrant Sarasota car culture.
Overall, Classic Cars of Sarasota stands as a mecca for classic car enthusiasts, offering a remarkable inventory, exceptional customer service, and a commitment to preserving the legacy of these timeless automotive marvels. Whether you're a collector, a first-time buyer, or simply an admirer of vintage vehicles, a visit to Classic Cars of Sarasota is sure to ignite your automotive dreams and provide an unforgettable experience.