Florida Sign Company has manufactured and installed Sam's Club signs at various locations in Florida. These signs included pole signs, monument signs, LED signs and wall signs. Here are some of the signs.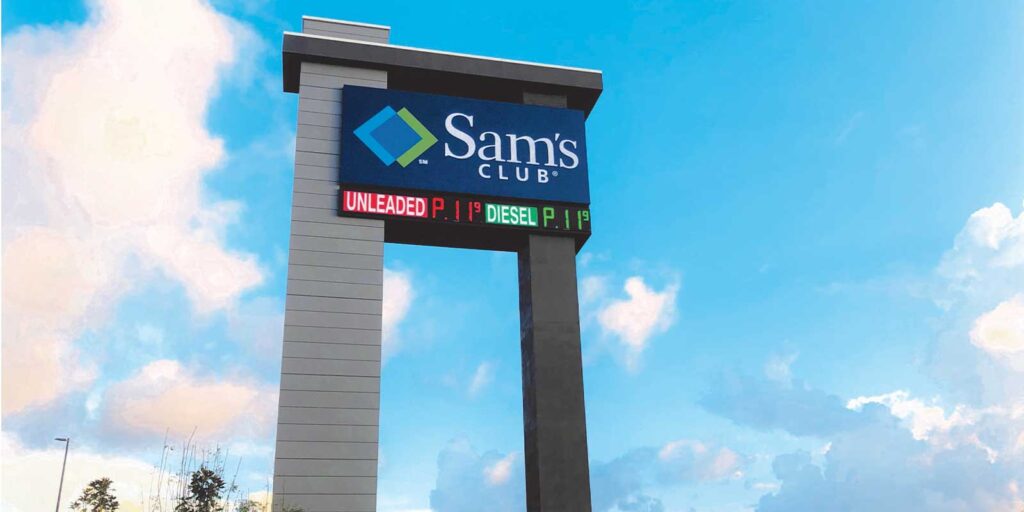 Sam's Club is a membership-based retail warehouse club chain owned and operated by Walmart. The first Sam's Club opened in 1983 in Oklahoma, USA, and has since expanded to over 800 locations worldwide, including the United States, Puerto Rico, Mexico, China, and Brazil.
Sam's Club is known for offering its members high-quality products at low prices. Memberships are required to shop at Sam's Club, and there are several levels of membership available. Each membership comes with various benefits such as access to Sam's Club gas stations, discounts on prescription drugs and eyewear, and free shipping on select items.
Sam's Club stores are massive, with an average size of 136,000 square feet. They carry a wide range of products, including groceries, electronics, furniture, clothing, and more. Their focus is on bulk purchases, making it a popular choice for families, small businesses, and individuals looking to save money.
The store layout is designed for easy navigation, with clearly marked sections and aisles. Products are often displayed on pallets, and the store offers a variety of services, including photo processing, tire installation, and optical services.
Sam's Club also offers a variety of private label brands, including Members Mark, Simply Right, and Daily Chef. These brands offer high-quality products at a lower cost than national brands.
So when you see Sam's Club Signs, they may have been manufactured and installed by Florida Sign Company.