Lush Nails & Spa Bradenton
We designed, manufactured, and installed a raceway channel letter sign for Lush Nails & Spa Bradenton. You can see this sign at 9670 FL-64, Bradenton, FL 34211. Thanks Lush Nails & Spa for trusting Florida Sign Company with your business sign.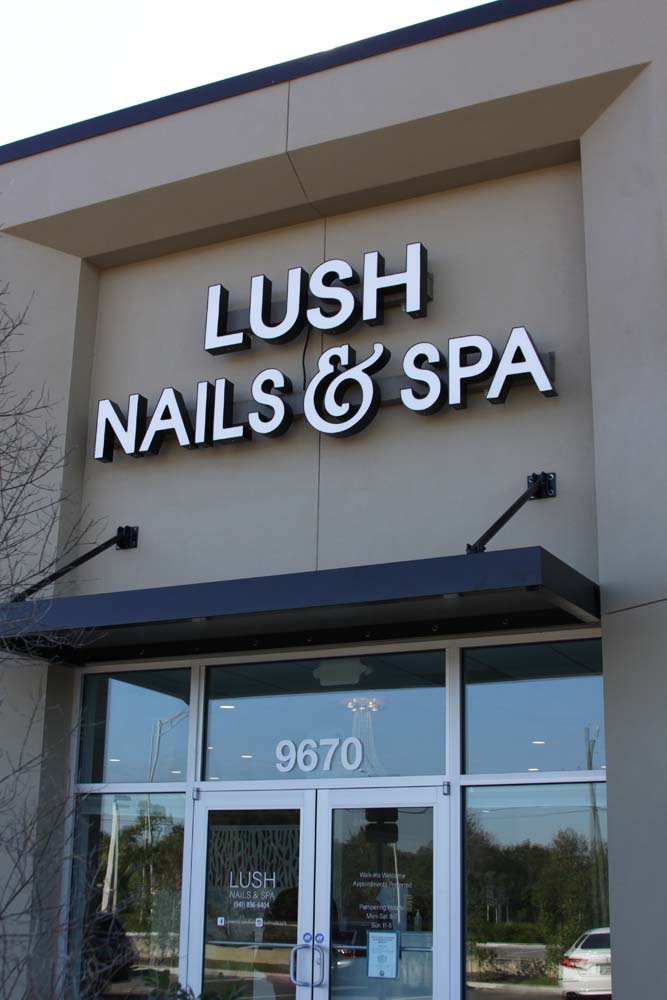 About Lush Nails & Spa
Lush Nails & Spa is a premier beauty and wellness destination located in Bradenton, Florida. With a reputation for excellence and a commitment to pampering their clients, Lush Nails & Spa has established itself as a go-to spot for those seeking top-notch nail and spa services.
This upscale establishment boasts a contemporary and welcoming atmosphere, designed to provide clients with a relaxing escape from the hustle and bustle of daily life. The salon's skilled and experienced team of nail technicians and spa professionals are dedicated to delivering exceptional services and ensuring that every client feels rejuvenated and refreshed after their visit.
Lush Nails & Spa offers a wide range of services to cater to various beauty and self-care needs. From classic and gel manicures and pedicures to luxurious nail enhancements, they have something for everyone. Their extensive selection of high-quality nail polishes and products ensures that clients receive top-notch treatment.
In addition to nail services, Lush Nails & Spa provides an array of spa treatments, including facials, waxing, and eyelash extensions. The salon uses premium skincare products and employs trained estheticians to address individual skincare concerns and enhance natural beauty.
The salon's commitment to hygiene and sanitation is unwavering, ensuring a safe and clean environment for clients. Lush Nails & Spa prioritizes customer satisfaction and strives to exceed expectations with every visit.
Whether you're looking for a relaxing escape, a nail makeover, or rejuvenating spa treatments, Lush Nails & Spa in Bradenton, Florida, is the place to indulge in self-care and beauty services that leave you feeling pampered and revitalized. Their dedication to excellence and commitment to their clients make them a standout destination in the Bradenton area.