Bishop Animal Shelter Bradenton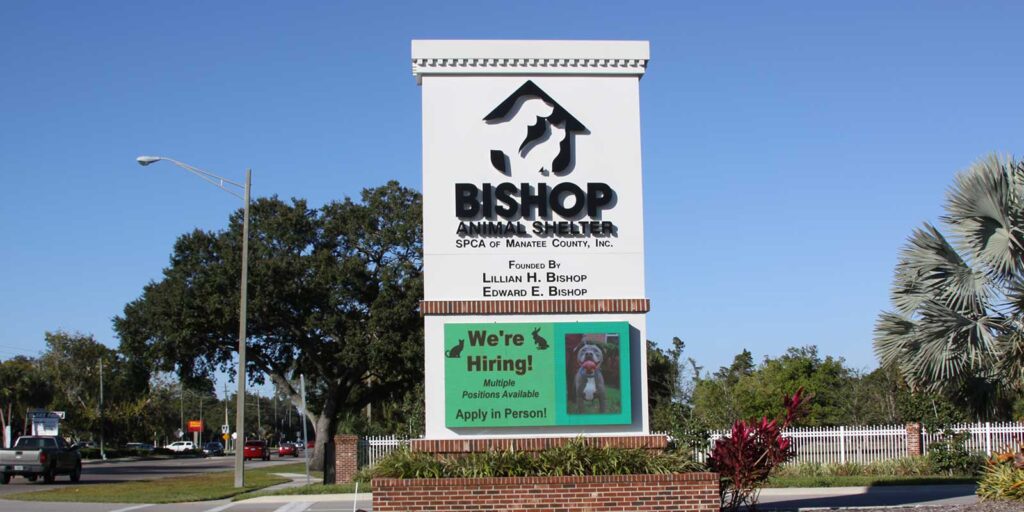 We manufactured and installed a freestanding monument sign with an LED message board at Bishop Animal Shelter Bradenton. You can see the sign at their location at 45718 21st Ave W in Bradenton, Florida. Thank you Bishop Animal Shelter for trusting Florida Sign Company with your new sign.
ABOUT Bishop Animal Shelter Bradenton
Bishop Animal Shelter, SPCA of Manatee County, Inc., is a no-kill adoption facility dedicated. They are a privately funded 501(c)(3) non-profit organization dedicated to finding homes for cats, dogs, small animals, and birds.
Mission
"To promote the compassionate treatment of companion animals in Manatee County and surrounding areas through progressive leadership, collaboration, and education. "
Vision
"A no-kill community in which all companion animals are treated with respect and compassion. "
They are currently operating by appointment only. So view the adoptable animals on their website then call to make schedule an appointment to visit.
Are you an animal lover but not currently looking to adoptable? You can help. You can make a onetime donation or arrange monthly giving. You can check out their wish list on their website to see what items they need which you can purchase and donate.
To learn more about Bishop Animal Shelter, SPCA of Manatee County, visit their website at www.bishopspca.org.